Score! GOL Airlines 737 Flight Review
Are you in the mood for a trip down to South America? I was down in Brazil last year and got my first chance to fly a couple of local airlines. Brazil-based GOL Airlines was one of them. It isn't a well known name outside of South America, but GOL is actually Brazil's largest airline, with over a third of the country's market share. It has hubs in multiple Brazilian cities. And of note for AvGeeks, it's a 100% Boeing 737 fleet — mostly next-gen -700s and -800s, but also a few new MAXes.
My flight with them was a short hop from Rio to Iguazu Falls — a bread-and-butter short-haul service. Along the way I got to sample the Rio lounge scene and get some gorgeous window seat views of Brazil from the air. Read on for the full scoop, and see if you'd be game to give GOL a go.
The ground game at G.I.G.
I was sad to leave Rio. It was a gorgeous city.

A sunset view from Rio's Sugarloaf
But the time came for me to head to the larger of Rio's two main airports, Galeão (GIG), which handles long-haul international flights and some domestic flights. I dropped by the Plaza Premium lounge in the domestic terminal. In general, I was impressed by the lounge options at the major airports in Rio and Sao Paulo.
Early in the AM there wasn't much of a crowd. I took a moment to appreciate the quirky wall art and design touches, and then headed to the gate.
Meet the seat
It was a short hop to the departure gate, where I got a partial view of the Boeing 737-800 operating my flight.
Over the past decade GOL has invested plenty in its fleet interiors, including the airy Boeing Sky Interior design.
Another feature that felt fresh: the seats. Starting a few years ago, GOL started introducing Recaro slimline seats into the fleet. They look sharp, and as slimline seats go they were relatively comfy.
GOL offers 30-inch pitch on its standard seats, with the option to buy up to premium economy with 34-inch pitch. Seat pitch is measured as the distance from any point on a seat to the same point on the seat in the row in front or behind. The thickness of the seat itself eats into the usable space, so for a given pitch, you actually get more usable legroom with a thinner seat.
That's all to say that the legroom felt slightly roomier than on a lot of other airlines that also technically offer 30-inch pitch.
My aircraft offered seat-back USB power, with four outlets shared between three seats.
Tchau, Rio
We had an on-time pushback and a quick taxi to the active runway. Here's a video of the takeoff and climb out — there was some early morning condensation on the window, but it cleared quickly once we hit real runway speed.
Soon enough we were over the (hefty) clouds and on our way into the rainforest.
Staying fed, watered, and entertained
Per usual for a low-cost carrier, food and drinks were available for purchase. Lots of trashy snacks like Cup Noodles, Doritos, and Red Bull … though sometimes that's the sort of stuff you're in the mood for I guess.
I was pretty impressed by the inflight entertainment options. GOL has invested in a pretty solid satellite-based wifi system, and the prices (R$5 = 1 USD) could be reasonable if your flight is long enough.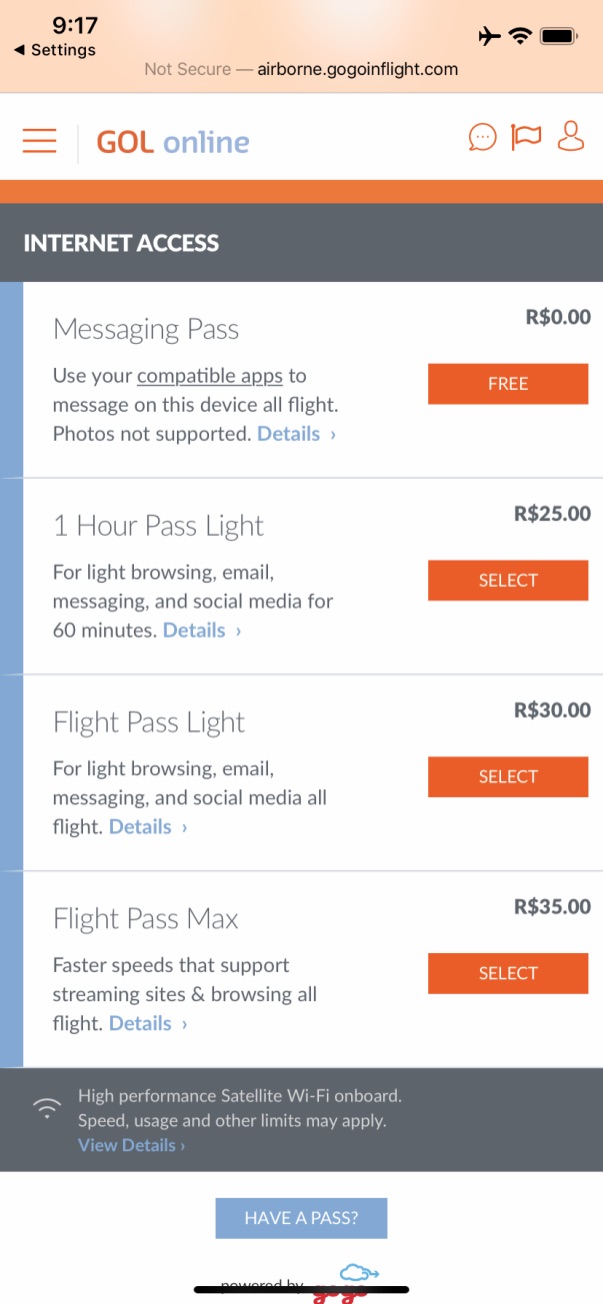 Despite being a low-cost carrier, GOL does offer a solid library of free movies and TV shows.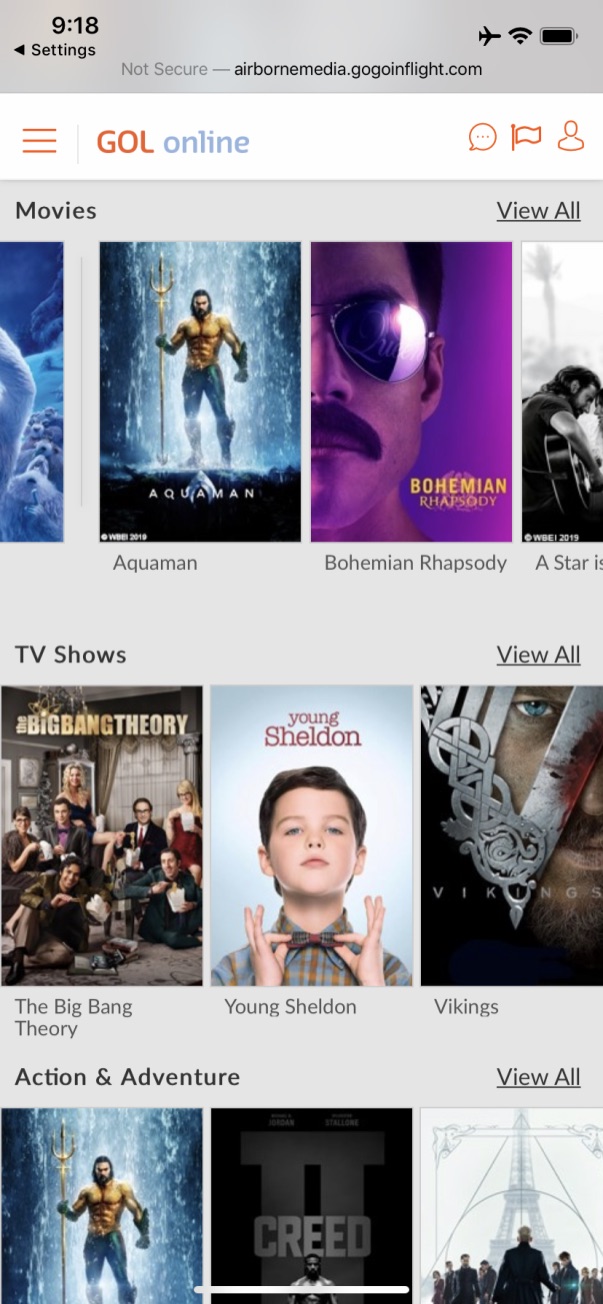 BONUS:Flying 15,000 miles to spend one night in Brazil with TAM (2014)
Wrapping up and heading down
I had plenty of ways to pass the time, but we had barely an hour of cruise flight before we started our descent towards Foz do Iguaçu. It was cloudy and humid, and we got to see the vortices at the edge of the flaps during final approach.
Even on a rainy day, I love deplaning onto the tarmac and getting to see the plane up close.
The long and short(haul) of it
For short-haul flights, in some ways it's more about limiting downside than maximizing upside. In other words, hitting the basics and not messing anything up. My GOL Airlines 737 was clean, the legroom was adequate, the departure was on time, and I arrived alive and uninjured. Maybe that's setting the bar too low … but it was definitely a cleanly executed operation.

This old-school government 737 was sitting by the entrance to Iguazu Falls National Park
I do think there was real upside though. GOL is low-cost, but it's still generous in providing inflight entertainment and pretty tech-forward with its app and inflight wifi. I'd be glad to give them another try whenever I'm next in Brazil — a truly beautiful country.
Now it's time to hear from you. Do you have any experience flying GOL Airlines? Share in the comments section below. 
The post Score! GOL Airlines 737 Flight Review appeared first on AirlineReporter.
Did you miss our previous article…
https://softandstrongmarket.com/?p=606