Quick Thoughts From My Return to Long-Haul Flying
Is it time to fly again? It's a decision we all need to make for ourselves. But as COVID rates downtrended in some parts of the world, and with at least a chunk of the population vaccinated, this summer felt like the right moment for me. And I took advantage with a long-haul itinerary from New York to Greece. It was great being back in the sky. But very different from the way things used to be. In hindsight I guess it's no surprise that after a cataclysmic year for air travel — and humanity in general — airports and airlines are doing things a little differently.
In case any any of you are planning your first forays back into flying, I'm sharing a few quick reactions and recommendations based on my experience. I hope they help your travels go a bit smoother!
Know before you go
Make sure you're 100% certain of your destination country's rules for inbound tourists. In Greece's case you have to fill out a Passenger Locator Form at least a day before you arrive. If you don't, they may not let you board your flight.
COVID may add some complexity to layovers. Be up to speed on entry requirements for your layover country, since in some cases you may be accountable to meet those requirements in addition to the entry restrictions for your final destination.

Layovers aren't just about lounge access anymore — make sure COVID rules don't leave you stranded!
Fortunately it's just a matter of researching government websites for advisories for inbound tourists. And travel forums can be helpful too. Obviously you should make sure your planned destination isn't in the middle of a COVID surge before you lock in your plans.
BONUS:I Am Glad I Waited To Be Vaccinated Before Flying
Expect the airport to move more slowly than usual
The airport world is coming off a year of significantly decreased traffic, and some parts of the air travel system haven't yet hit their stride.

Turkish Airlines check-in counters at Istanbul-Ataturk's International Terminal
My flight out of Newark illustrated that point:
The AirTrain was barely running.The skeleton-service check-in staff couldn't find the paper stock to print our boarding passes.There was only one lane open at the TSA checkpoint.
Long story short we almost missed the flight because the airport was running at snail's pace.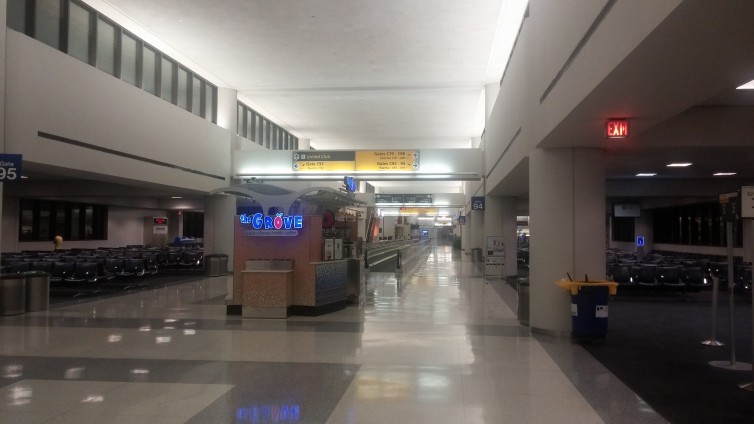 A very empty terminal at EWR – Steven Paduchak
Some flights are filling up, but many are still empty
Overall, airline passenger volumes are picking up at a fast clip. Great news for the industry. But there still be many routes that are flying empty, especially newly relaunched routes.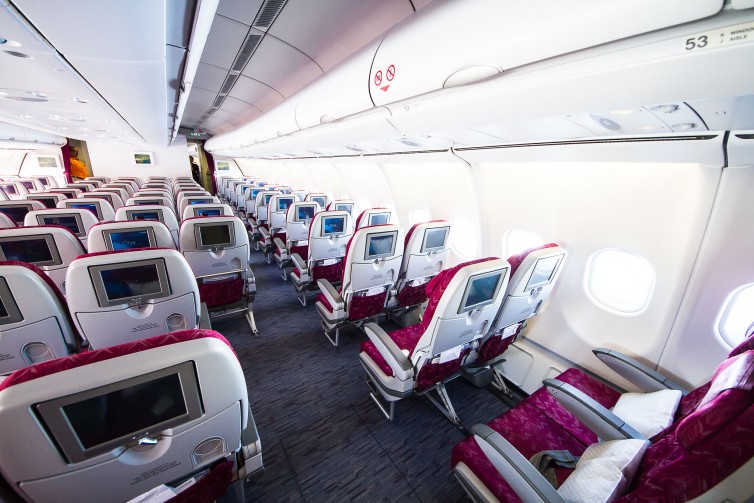 I'd like to know where all the passengers in T1 went as my flight was very empty Photo: Jacob Pfleger | AirlineReporter
I was on the Emirates fifth-freedom route from Newark to Athens within a couple of weeks of its relaunch. On the outbound, it was flying at less than 20% capacity. And on the return, it was less than 10%. We all got our own three or four-seat row to ourselves and could lie flat. Poor mans' business class for the win!

Eight people in a 50-seat section? Yes please! – Photo: Manu Venkat
BONUS:Goodbye and Good Riddance 2020 – Our Best Stories From the Worst Year
Inflight service is different … but not necessarily bad
Every airline has modified their service somewhat to help limit contact points between passengers and crew. I was curious how the service would feel on my flight, especially since I'm very familiar with Emirates service from pre-COVID. Honestly I wasn't disappointed. The flight attendants were cheery, did multiple rounds through the cabin with drinks, and felt in most ways like economy cabin service pre-COVID (other than the sanitizing wipes they handed out). Maybe the difference feels more stark in premium cabins, but I don't have firsthand experience with that yet.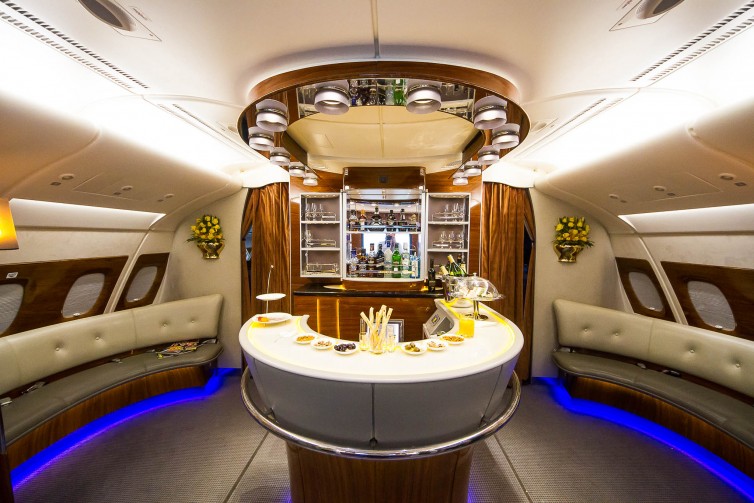 The well-known Emirates A380 bar functions differently during the pandemic – Photo: Jacob Pfleger | AirlineReporter
Don't count on everyone wearing a mask all the time
I trust that most people (other than the nutjobs on YouTube causing fights over masks and getting duct taped to airplane seats) sincerely intend to wear masks as directed.

Lufthansa Technik Oxygen Masks
But on long-haul flights all bets may be off. Long flights mean full meal services, which everyone takes their mask off for. Some well-meaning people may forget to put them back on. Also, when people fall asleep, their masks often slide off. I saw all of the above during my flight. So if you're medically high-risk, especially if you're seriously immunocompromised, take caution.
Flying is still fun!
I was worried all the stress about COVID safety would suck the fun out of my flight. But it was still amazing to be back in the air. I'd say that if (1) you're flying for a solid reason, (2) traveling from an origin with low COVID rates to a destination with low COVID rates, (3) you get vaccinated, and (4) you do a reasonable job protecting yourself along the way, then go for it!
document.createElement('video');https://www.airlinereporter.com/wp-content/uploads/2021/07/IMG_9704a.mp4
Comment below and let us know how your first forays back into flying are going!
The post Quick Thoughts From My Return to Long-Haul Flying appeared first on AirlineReporter.
Did you miss our previous article…
https://softandstrongmarket.com/?p=810